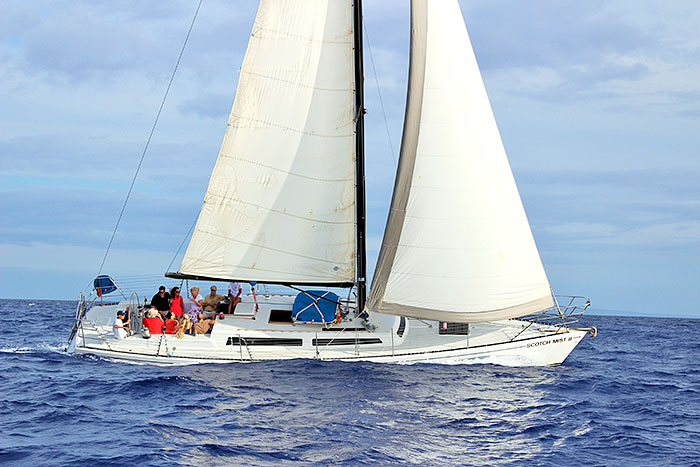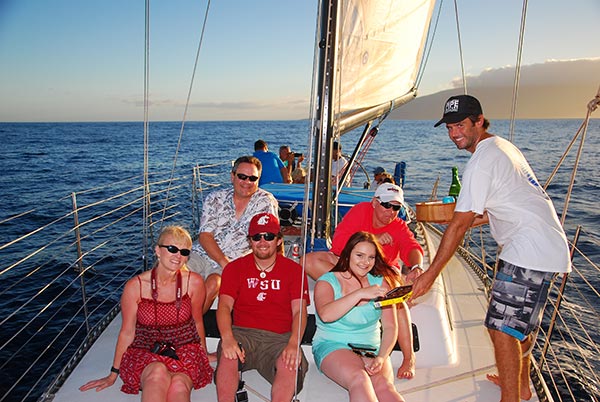 Private Charters
Aloha and welcome aboard the Scotch Mist, one of the finest and fastest sailing yachts in the Islands. She was "first in class" in the prestigious Victoria-to-Maui yacht race, besting her competitors by over 24 hours.
Lahaina Harbor's only mono-hull sailing yacht.
Our 50-foot Santa Cruz yacht carries up to 22 passengers for intimate sailing excursions.
Your choice of, champagne, white wine, local beers, sodas, juices and bottled water are complimentary and included on all our sailing charters. Chocolates are added for our Sunset Sail. Lunch is included on the Morning Snorkel Sail.
Morning Snorkel Sail
Scotch Mist Sailing Charters offers a fun and exciting Morning Snorkel Sail from Lahaina Harbor. Maui is quite possibly the perfect location for sailing and snorkeling due to its pristine crystal clear water, abundance of marine life, and gentle trade winds. Join us on our 50' Santa Cruz sailing yacht for a thrilling 4 hour adventure. Our knowledgeable captain and crew will guide you to the best snorkeling spots on the West Maui Coast and will choose the perfect location for the day depending upon prevailing conditions. Lunch is included with this trip.
Adventure Sail
Join us on a 2-hour Adventure Sail with spectacular views of Lanai and the West Maui Mountains while relaxing with a local beer, glass of wine or other complimentary beverages and taking plenty of photographs.
Champagne Sunset Sail
One of the best experiences on Maui is our 2-hour Champagne Sunset Sail with beautiful sunset vistas over the island of Lanai. Enjoy bubbly champagne & chocolates together with our other complimentary beverages before you dine and party the evening away in Lahaina Town.
Personal Service is our Trademark and tradition.
Come Sail Away!
Please check-in 30 minutes before your departure time.
Trip & Destination
Note - Trip and destination are weather, seas, and wind conditions permitting; any snorkel site is Captain's choice for visibility and safety.
Guest Responsibility - Guests are solely responsible for their possessions including clothing, hats, cameras, cell phones, and other electronics. Dry storage bags are not available; however small disposable trash bags are available upon request. Please remember, we are a sailing vessel on the water and in the elements, dress appropriately. Layered clothing and a long sleeve shirt and /or light jacket are recommended for sun and wind protection.

Restrictions - 48-hour cancellation policy. Click here for terms. All activities are at your own risk, sailing is best suited for the physically fit, outdoor adventurer.
No children under the age of 5, pregnant persons, persons having recent back/neck surgeries or major injuries/issues. Any passenger doing in-water activity must be a competent swimmer. Private Charters - do NOT have age restrictions; however, they are recommended. Private charters are your boat for your time.
Be aware there is No Smoking permitted on board the boat, or at the dock per State law.
MAHALO!!!