Aloha Guests and Travel Partners:
1. SMART AND SAFE CLEANING PROCEDURES. As tourism and activities re-open and visitors return to Maui, we will be following state and federal social distancing guidelines. We are using high-tech atomizing sprayers (like American Airlines) to disinfect all check-in booths, seating areas and vessel surfaces before and after each cruise, and we have hand sanitizing stations set up and extra masks and nitrile gloves for our passengers if needed. Crew and passengers will wear a mask except while swimming and snorkeling and enjoying on-board food and beverages. We are doing everything to keep our passengers and employees safe. Please respect our practices during these transitional stages. We will be conservative as the CDC, State of Hawaii, and Maui County each loosen their operating restrictions, which sometimes conflict with one another. We all must be patient to return to the "New Normal". Good luck to all of us!!!
2. SCOTCH MIST SCHEDULE. Scotch Mist Sailing Charters is operating its 3 hour Morning Snorkel Sail (Monday, Wednesday, and Friday) and its afternoon Adventure Sails and Champagne Sunset Sail (Monday through Friday) and private charters are always available. Scotch Mist is carrying only 17 passengers which is 75% of its USCG certified passenger capacity per current state regulations which is a virtual private charter for families and small groups. Call or check our website www.scotchmistsailingcharters.com for available dates and times. We can be reached by phone at (808) 661-0386 or by email at info@scotchmistsailingcharters.com.
3. MAC SCHEDULE. Maui Adventure Cruises is operating its 4.5 hour Lanai Dolphin & Snorkel Adventures everyday of the week. The island of Lanai is still shut down for a few more weeks; and, therefore, our Lanai Landing Adventure is temporarily suspended until restrictions are lifted. Our Explorer Super Rafts will carry only 32 passengers, which is 75% of their USCG certified passenger capacity per current state regulations. Call or check our website www.mauiadventurecruises.com for available dates and times. You can reach us by phone at (808) 661-5550 or by email at info@mauiadventurecruises.com.
4. RESERVATIONS. Our Reservations Department is available daily to answer calls for future reservations. No cancellation fees or change charges will apply for any reservation for an activity excursion through August 31, 2021 for maximum flexibility for our guests and our activity company partners who make reservations and bookings for our mutual guests.
5. MAUI IS RE-OPENING. With everyone's sensible efforts over the next few weeks and months, travel and tourism on Maui will return to a "New Normal"; so in the interim, please be both SAFE and SMART. Take Care All!!!
Mahalo Nui Loa,
SCOTCH MIST SAILING CHARTERS and
MAUI ADVENTURE CRUISES
Scotch Mist Sailing Charters is the premier sailing charter company on Maui. Enjoy stunning scenic views as you glide silently along the sparkling blue waters off Maui's West Coast. We offer a Morning Snorkel Sail, Morning and Afternoon Adventure Sails, Champagne Sunset Sails, and customized Private Charters for up to 22 passengers on the Scotch Mist, a Santa Cruz 50 sailing yacht. This beautiful sailing vessel is built for speed and stability and offers thrills and relaxation rolled into one as our experienced crew takes you on a breathtaking sailing adventure.
We are located in Lahaina Harbor, Front Row Slip 2 on the beautiful island of Maui, Hawaii's second largest island. The weather on Maui is mild year-round and our gentle trade winds make Maui an unbeatable sailing destination. There is nothing like gliding quickly and silently across the ocean – guided by nature's wind and enjoying her beauty and wonder.
Scotch Mist
The Scotch Mist is a fun and fast yacht, built in 1982 for racing by famed builder Bill Lee in Santa Cruz, California. In fact, she is the fastest production line sailboat of her size in the world, having won "first in class" in the prestigious Victoria-to-Maui Yacht race, besting her competition by over 24 hours. The speed of this awesome sailing vessel is truly exhilarating! And the serenity of your surroundings will leave you feeling completely relaxed and at ease. Enjoy one of our complimentary beverages local beer, white wine, soda, juices and even champagne on the Sunset Sail, and let us do all the work!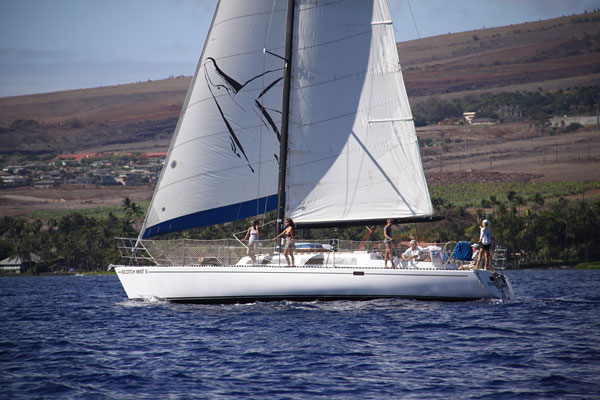 Maui has a rich marine ecosystem and sightings of Spinner and Bottlenose dolphins, sea turtles, and humpback whales (in season) are common sights along Maui's West Coast. Our snorkeling and whale watching (seasonal) sails will put you right into the action. The natural beauty of the West Maui Mountains and glittering white sand beaches are a perfect backdrop to some of the most stunning sunsets in the world.
Whichever sailing charter you choose, rest assured it will be a trip to remember. So leave all your worries behind and come for a sail with Scotch Mist Sailing Charters-Maui's choice for fun sailing!
MAHALO!!!



Sunset Champagne Cruise with Family
This was a fun adventure for the whole family! We took our kids (all early 20s) on their first sailboat experience and they loved it. The weather was perfect and we saw a lot of whales up close. Alex was the perfect host and I don't think anyone had an empty glass of champagne or beer.
---


Perfect sunset sail on the Scotch Mist
Exactly the sunset sail we were looking for – about 15 people aboard a 50ft sailboat certified for 22 – unlimited drinks (champagne, wine, beer, soft drinks), super knowledgeable and friendly crew (mahalo, captain Marty and mate Alex!), ACTUAL sailing (!!), and a beautiful Maui sunset. It was a bit too late in the season to see any whales, but the trip was still so much fun it didn't matter. I've also done a sunset sail on one of the larger catamarans in Maui, and I recommend the Scotch Mist over that if you want a more intimate, real sailing experience. Enjoy!
---


A whale watch for sailors.
If you love to sail, this is the whale watch for you. Skipper Marty and First Mate Alex set the sails as soon as you leave the port of Lahaina. Most whale watching "sails" on the big catamarans are really "motors," not sails. We love Scotch Mist and usually go out 2-3 times every winter when we are on Maui. Oh, by the way, we also see whales and dolphins.
---


Perfect Sail!
We enjoyed another lovely afternoon sail today aboard the Scotch Mist which we have sailed on many times before on visits to Maui. Conditions were ideal today and it was glorious looking over at the west Maui mountains while scooting along on a nice breeze under the very competent watch of Captain Marty and first mate Alex. These guys know their stuff and got us safely nearby a mother and baby whale which was quite a thrill today to say the least. An afternoon sail on the Scotch Mist is always a highlight of our annual trips Maui!