Champagne Sunset Sail
One of the best experiences on Maui is our 2-hour Champagne Sunset Sail with beautiful vistas of the West Maui Mountains, Lahaina Town from the water and sunset vistas over the Island of Lanai. Enjoy bubbly champagne and chocolates together with our other complimentary beverages – white wine, local beers, sodas, juices and bottled water – before you dine and party the evening away in Lahaina Town.
Sailing on the Scotch Mist yacht is an exhilarating experience with a full main sail and billowing jib as we travel where the wind may take us. Our sailing yacht carries up to 22 passengers so we have intimate groups that make new friends on their sailing adventure. Cameras are a must for photos with your companions, new friends and the colorful skies and fantastic sunsets. Your captain and crew are experienced mariners that enjoy being on the water as much as our guests and are lucky enough to do it nearly every day of the year.
During Whale Season which runs from mid-December through early-April, our Champagne Sunset Sail has the possibility of whale sightings, especially during January and February. We sail among the majestic Humpback Whales who migrate to Maui waters and inhabit the Lahaina Roadstead for several months to mate and give birth to calves.
The Scotch Mist quietly sails amongst these leviathans who range 40 to 60 feet in length and can weigh in excess of 40 tons and come close enough to our sailing yacht to have our guests look "Eye-to-Eye" with them during "Up Close and Personal Encounters". The Champagne Sunset Sail is a special excursion combining a little bit of luxury relaxation – champagne, white wine and chocolates – with the possibility of sighting the natural wonders of our Humpback Whales. Personal service is our trademark and tradition. Come join us and sail away!!
Private charter Champagne Sunset Sails are available throughout the year. Make our sailing yacht your personal yacht. Call our office for details.
Our Champagne Sunset Sails are for guests 13 years old and older.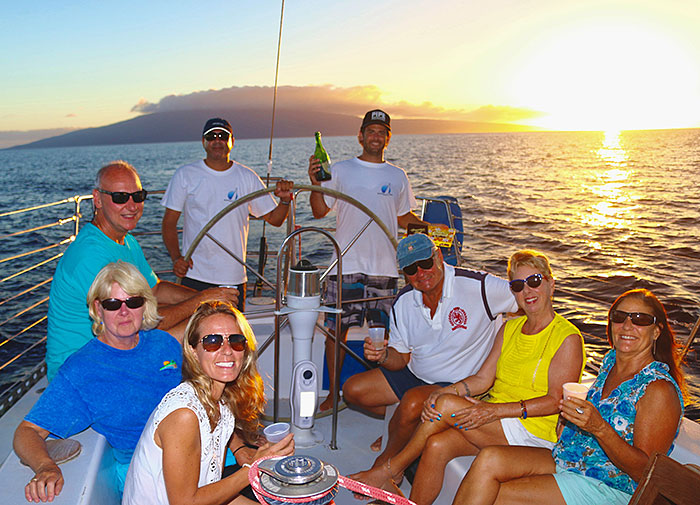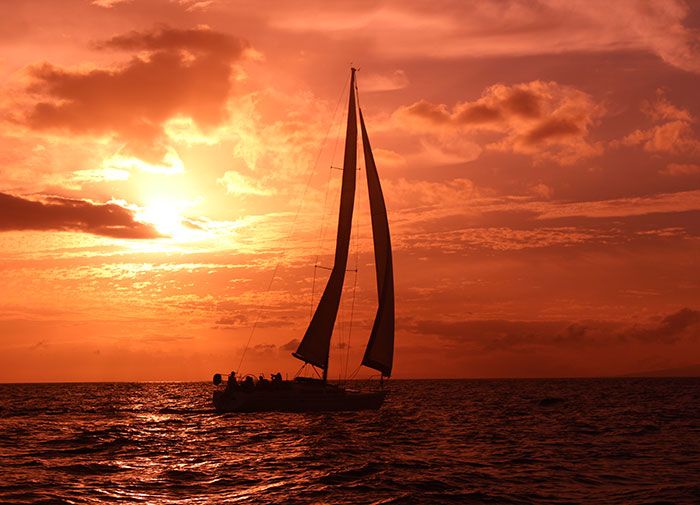 Please check-in 30 minutes before your departure time.
Trip & Destination
Seasonal Departure Times:
Champagne Sunset Sail are adjusted four times during the calendar year to coincide with the changing sunset time.
| Season | Dates | Departure Time |
| --- | --- | --- |
| Winter | November 1 thru February 6 | 4:00pm |
| Spring | February 7 thru March 31 | 4:30pm |
| Summer | April 1 thru September 18 | 5:00pm |
| Fall | September 18 thru October 31 | 4:30pm |
If needed, please call us to verify check- in time for your excursion date (808) 661-0386.
Note - Trip and destination are weather, seas, and wind conditions permitting; any snorkel site is Captain's choice for visibility and safety.
Guest Responsibility - Guests are solely responsible for their possessions including clothing, hats, cameras, cell phones, and other electronics. Dry storage bags are not available; however small disposable trash bags are available upon request. Please remember, we are a sailing vessel on the water and in the elements, dress appropriately. Layered clothing and a long sleeve shirt and /or light jacket are recommended for sun and wind protection.

Restrictions - 48-hour cancellation policy. Click here for terms. All activities are at your own risk, sailing is best suited for the physically fit, outdoor adventurer.
No children under the age of 5, pregnant persons, persons having recent back/neck surgeries or major injuries/issues. Any passenger doing in-water activity must be a competent swimmer. Private Charters - do NOT have age restrictions; however, they are recommended. Private charters are your boat for your time.
Be aware there is No Smoking permitted on board the boat, or at the dock per State law.
MAHALO!!!